About Estes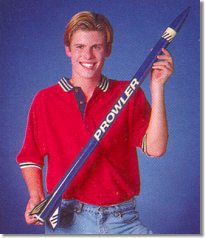 Estes Industries was founded by Vern Estes and his wife Gleda in Denver, Colorado. Starting in 1958 with the manufacturing of solid propellant model rocket engines on a machine of his own design, Vern Estes (pronounced "Ess-tess") later branched out into mass production of balsa nose cones and adapters for model rockets. He and his wife began selling model rockets by mail in 1960.
In 1961, due to a steady increase in orders, Vern Estes moved the company to a 77-acre tract on the outskirts of Penrose, about 30 miles southwest of Colorado Springs. Rapid growth followed, and soon Penrose became known as the "Model Rocket Capital of the World". Estes Industries became, and remains to this day, the world leader in model rocketry, celebrating its 40th anniversary in 1998.
United States Space Foundation
Estes has partnered with the United States Space Foundation to promote space and science to K-12 educators and the public. Estes rockets are the Official Rockets of the United States Space Foundation and are used in Space Discovery, the USSF graduate course for K-12 educators. Estes worked closely with USSF to co-develop the "Ignite the Imagination"™ video and curriculum guide for teachers and your group leaders. For more information about USSF, call 1-800-691-4000.
US Space and Rocket Center
Estes has developed a close partnership with the US Space and Rocket Center. Estes rockets are the Official Rockets of U.S. SPACE CAMP®. Estes model rockets are used exclusively in their SPACE CAMP® educator programs. For more information about SPACE CAMP® call 1-800-63-SPACE.
The World Leader in Model Rocketry
Look to Estes when you're ready to build a stellar looking display model and feel the exhilaration of launching a real rocket! Estes flying model rockets are micro-versions of authentic rockets flown all over the world. From scale NASA-based transports to military styled missiles, from futuristic alien spacecraft to high performance sport fliers, Estes rocketry is the only way to go!
Experience the roar of an Estes rocket lifting off the launch pad, screaming into the sky and then safely floating back to earth on a colorful, plastic parachute. Replace the engine and igniter and you are ready to launch again in minutes! You can build all types of Estes rockets and send them skyward with your reusable launch system. All you typically need for additional flights would be extra engines, igniters and recovery wadding.
Is it Safe?
Estes model rocketry is one of the safest outdoor activities in the world. Over 300 million model rockets have been launched safely since 1957. It is safer than most sporting activities. Estes has provided 40 years of safe, innovative and breathtaking fun to people of all ages. Whether you're into flying rockets for sport or competition, Estes rockets offer you a truly rewarding experience. And remember, it's up to each and everyone involved to keep model rocketry a safe activity well into the next millennium. You can do your part by following the Model Rocketry Safety Code at all times.
Estes model rocketry is recommended for ages 10 years and up. Adult supervision is recommended for those under 12 years of age.
Unless otherwise specified, all models require assembly. Engines, launch system, glue and finishing supplies are not included with the kits unless specified otherwise.
Maximum altitudes shown with kit descriptions are projections only, your rocket's actual performance my vary.
Full One Year Warranty
Your Estes product is warranted against defects in materials or workmanship for one year from the date of the original purchase. Any Estes product, except computer software, which because of a manufacturing mistake, malfunctions or proves to be defective within the one-year warranty period will be repaired or replaced, at Estes' option and at no charge to you, provided it is returned to Estes with proof of purchase.
This warranty does not cover incidental or consequential damage to persons or property caused by the use, abuse, misuse, failure to comply with operating instructions or improper storage of the warranted product. some states do not allow the exclusion or limitation of incidental or consequential damages, so the above exclusion may not apply to you. This warranty gives you specific legal rights and you may also have other rights which vary from state to state.
Caution: Use of these Estes products with any other brand-name rocket product containing any defect or causing any damage may void the Estes warranty.
For repair or replacement under this warranty, please return the defective part of your Estes product with proof of purchase to Customer Service at Estes Industries.
---
Getting Started
Starter Sets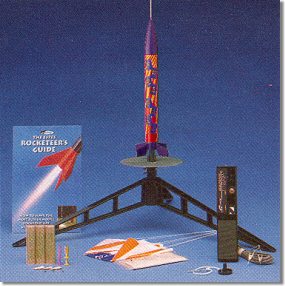 There's no better way to get started in this terrific hobby than with one of Estes great starter sets. Each set contains a high-flying, easy-to-assemble E2X Series Model Rocket kit with exacting plastic parts and pre-colored body tubes, that let the novice assemble a rocket with a craftsmanship result. These models assemble so simply and precisely that we guarantee success. And, with pre-finished parts and no painting required, you'll have a sharp looking model ready to go in almost no time!
Included in each Starter Set, along with the E2X series rocket, you will get:
Porta-Pad II launch pad

Electron Beam launch controller

Model Rocket Engines

Igniters

Igniter Plugs

All of this comes packed in a sturdy range box with carry handle. All you need is batteries and glue, and in about an hour you'll be ready to launch! And, the launch equipment that comes with your Estes Starter Set can be used to launch nearly every Estes rocket in the E2X through Master Series!
---
Estes E2X Series Kits
The Estes E2X Series Kits are Almost Ready to Fly right out of the box. There is no modeling experience required in this series. As a matter of fact, the rockets in this skill level are assembled, not constructed. What this means is that:
There is practically no cutting or sanding
There are very clear and simple to follow instructions
There is no painting or sealing
These kits are a very quick build—almost 30 minutes
These precision engineered kits, with exacting plastic parts and pre-colored body tubes, let the novice assemble a rocket with a craftsmanship result. By including rockets such as the helicopter-recovered SkyWinder, and the glider recovered Manta in this skill level, there are features that even the experienced modeler will enjoy.
---
Beta Series Kits
The Estes Beta Series Kits is a traditional starting point for some modelers wanting to build from a kit. The kits in this series have simple construction, although some modeling experience can be helpful (sanding, cutting, measuring and gluing), this skill level will help you acquire those skills. These kits are often used in schools, boy Scout Troops, 4H Clubs, summer camps, Civil Air Patrol and Young Astronauts programs. The kits feature:
Die cut fins with some fin alignment necessary
Simple painting
Pressure sensitive or water transferable decals
Up through "C" engine power
---
Explorer Series Kits
When you have learned the basics of model rocketry and are ready for something new and different, the next step is the Estes Explorer Series. This series offers interesting designs with a variety of recovery possibilities. Both futuristic designs and scale models are included in the series as well as some "D" size models. Kit features include:
More involved construction and finishing
Precision die cut parts from plastic, wood and fibre board
Pressure sensitive or water transferable decals
Unique designs and capabilities
Up through "D" engine power
---
Masters Series Kits
This is the goal of every rocket builder. The Estes Masters Series kits are flying rockets that are aimed at the serious rocket modeler — the modeler who likes the emphasis to be on construction. Kit features include:
Advanced construction skills required
Longer construction time
Advanced finishing and painting techniques
Pressure sensitive or water transferable decals
Advanced scale designs
Up through "E" engine power
---
Challenge Series Kits
When you are ready for a challenge or looking for more power, then it's time to step up to the Estes Challenge Series. Here's where you will find models with intricate shapes and unique flight features, and models that demand the Estes "E" Engine for full flight satisfaction. Included in the series are futuristic and scale models. Kit features include:
Higher level of skill required in construction
Longer construction time
Use of Epoxy and other adhesives
Advanced finishing and painting techniques
Pressure sensitive or water transferable decals
Unique designs and capabilities
Up through "E" engine power