Wiring Electric Motor Systems
by Gary Stephen
Great Hobbies Inc
The following is to aid you in wiring an electric motor system for your indoor or park flyer project. This particular system will work with any motor system with a current draw of five amps or less.
For systems in this current range, we recommend the use of the Deans 2-Pin polarized and non-polarized connectors. They are an excellent choice, being small and light in weight. They come in two versions the DEA1222 are polarized for battery to speed control and battery to charger application. The DEA1225 are not polarized and should only be used for speed control motor connection.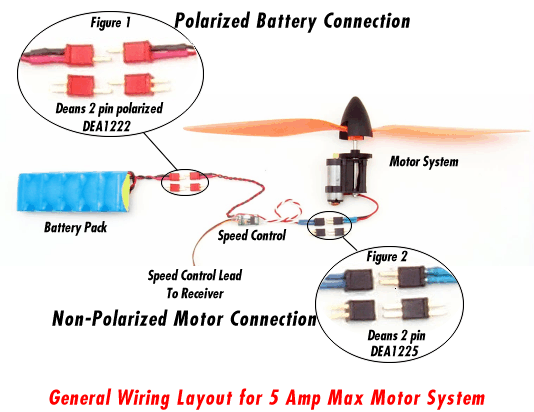 The standard connection using the DEA1222 can be seen in Figure 1. On the battery, make the male exposed pin positive and the female negative. The opposite is done on the power side of the speed control.
Using a DEA1225 on the motor side of the speed control lets you reverse polarity to the motor for different application such as a geared or pusher prop setup. Be sure to use the female on the controller side and the male on the motor to prevents shorts when not connected. See Figure 2.
When soldering the connectors, plug them together to act as a heat sink.
Note: You can remove the pins from a pair DEA1222 plugs and reconfigure to DEA1225 and vice versa.