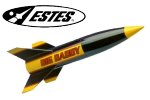 Estes Rockets
Estes has been the standard in the Rocket industry for over 40 years, virtually pioneering the hobby.
·
Starter Kits
·
Kits
·
Ready-to-Fly
·
Engines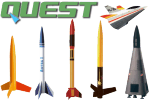 Quest Rockets
Quest offers a unique line of rocket subjects in both single and dual stage models.
·
Quest Kits
A Quick Guide to Some of the Popular Model Rocket Product Categories
Please note this is a partial list of categories only. If you don't see it here, refer to either the
Product Index or our Advanced Search.